Svenska statistikfrämjandet
Swedish Statistical Society
SSFr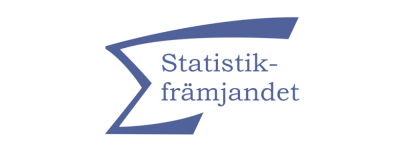 The executive committee
President: Nancy Steinbach
Vicepresident: John Öhrvik
Secretary: Mattias Strandberg
Treasurer: Annika Tillander
International liaison: Hans Alberg
Competence development: Magnus Pettersson
Section representatives
Surveyföreningen Martin Hyllenmark
FMS Aaron Levine
Industrial Statistics Hans Alberg

Cramérsällskapet Anders Lundquist
About the Society
Svenska Statistikfrämjandet (the Swedish Statistical Society) was founded in 2007 after merging Statistiska Föreningen and Svenska statistikersamfundet, The purpose of the organization is to promote research and education within statistical sciences and serve as a forum for discussions about statistical applications and ethics. During 2023 an updated code of ethics was released. The society has initiated two working groups within FENStatS: one about accreditation and one about Covid statistics.
Statistiska föreningen was founded 1901 as an association for exchange of experience, discussions, and development within statistics. The organization was intended for producers as well as users of statistics.
Svenska statistikersamfundet was founded 1963 as an organization for professionals within statistics and mathematical statistics.
The Swedish Statistical Society has four sections:
Surveyföreningen. The purpose of the organisation is to promote research, development of methods and education within survey statistics.
FMS (the Swedish Society for Medical Statistics) was founded 1987. The purpose of the organisation is to promote development and correct usage of statistics within medicine, public health and pharmaceutical industry.
Industrial Statistics is mainly intended for users of statistics within the industry. The organization is also connected to ENBIS (European Network for Business and Industrial Statistics).
Cramérsällskapet named after the renowned Swedish Statistician Harald Cramér (1893-1985) who also was president of the Stockholm University and later Chancellor of education. The organisation was founded 2009 and the members are mainly academic staff within statistics and mathematical statistics.
News from the Society
List of societies